My Role: UX Researcher and UX Designer
Tools: XD, Camera, On-Site visits, One on One Interviews.
Background:
CORE's newest venture is CORE Disaster Services. CORE Disaster Services primary source of revenue comes from repairing homes in areas that have been affected by a natural disaster. They accomplish this by working directly with FEMA and HUD.
Description:
Now having designed the mobile application to help all of our field employees it was time to focus on designing a solution that would be able to communicate and manage all of the new data points that our office staff was collecting from the field. This would be my first attempt and organizing all of the information points across various users. Creating and designing a one-stop solution for the web application.


The Problem:
Determining the how to manage various properties and the various stages a property can go through to ensure that we are being paid for the work that we complete and also being able to quickly identify any potential problems on a job site.
​
​
Deliverables:
Due to an NDA, and this being an ongoing project, I can not share the final product.
Schedule
​
At the current time scheduling was based on an excel spreadsheet. Teams would meet daily and be given there assigned house and documents in a paper packet. Often teams would go to the wrong houses.
Property List
Like many parts of this project Excel/Smartsheets are the main tools used to manage all properties.
Permit/Document Tracking

Paperwork was often lost mishandled. Because of this, I felt that I needed to eliminate as much as possible the use of paper for documentation.
Billing
​
There wasn't any formal process for billing. Depending on the program director they would use whiteboards and use various colored markers to indicate the current status of a bill.
After my field visits and speaking with stakeholders it was clear that my web designs would be focused on four areas of improvement for the web experience. These improvements would give our users the ability to do their job to the fullest all in one platform.

1. Design a scheduling system that allowed for better management of resources and personnel.
2. Create a detailed view of all properties and the various statuses that many properties are in. While also being able to effectively communicate information from mobile devices to the web application.
3. Introduce a better more organized approach to permits, and permit tracking.
4. Create a more effective way to handle billing and invoicing of properties that have been completed.
Schedule

The main focus on the schedule was.
1. Quickly identify the status of all properties.
2. Assign Superintendents and Subcontractors to a property.
3. Schedule properties based on the homeowner and manpower availability.
Property List

The purpose of the property list page is to streamline the most relevant information keeping and all information within a clip of a button.
The Breakdown of the property list tabs is;
Property Info Tab, Scope, Photos, Change Orders, Documents, Forms, Schedule, Notes, Permits, and Daily Reports.
All of these tabs would allow the streamlining of data and the data flow for each property assigned to CORE.
Permits

The management and organization of Permits are crucial not only to the start of a project but also for the closing out and billing process. Each property has to be identified by the type of permit that is required by the local municipality or state government. Making this digital allowed for easier access and tracking of all the permits and their status.
Billing
The goal here is simple. Create a billing tool that could take completed properties. The function of the billing process is to package together, all forms, documents, photos, reports and more into one convenient file to be electrically delivered to the program to ensure that we would be paid in a timely manner for work completed. This would reduce the time and rework that was often needed to get a property in billing status through paid.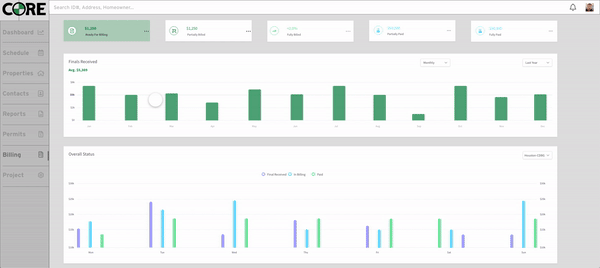 Due to this being an active project, I can not share publicly due to NDA.
Feel free to reach out to me to set an appointment up to discuss in detail.
View Case Study

(Coming Soon)
In construction, nothing will work the way you think it will. Construction workers only care about one thing-getting the job done. They only want to focus on building or repairing things. To them, technology is not a tool they can use to help with that process. So when working on this project, I focused on making sure that the workers saw technology as a tool in their tool bag and not a device that gets in their way. Construction is difficult to really understand unless you have been on a job site and understand the difficulties that construction workers face daily. It's literally life or death for most of them. Designing with that in mind made my job harder, but it forced upon me the "KISS" method.